Description
These oral swabs will detect the following drugs:
Amphetamine (AMP) – 50 ng/mL
Methamphetamine (mAMP) – 50 ng/mL
Cocaine (COC) – 20 ng/mL
Opiates (OPI) – 40 ng/mL
Marijuana (THC) parent THC at 100 ng/mL and THC-COOH at 12ng/mL
Benzodiazepines (BZO) – 10 ng/mL
How to Administer a Saliva Drug Test
Place the cotton swab into the mouth. Fully saturate the sponge with saliva for 3 minutes.
Insert the wet swab into the collection chamber. Turn clockwise to lock it in.
Once locked in place, turn counter clockwise to activate the testing strips.
Wait 9 minutes and read results.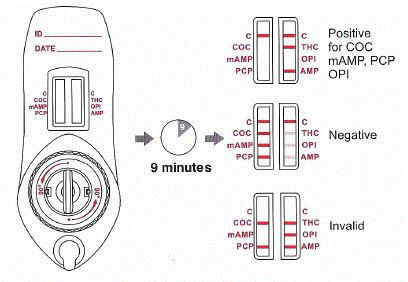 Product Features:
Accurate results for 6 drugs in 10 minutes!
Test your teen in the privacy of your own home
FDA 510(K) cleared
Up to 99% accurate lateral flow test
Results stable for up to 4 hours
Storage Room temperature
Shelf life up to 12 months from date of manufacture
Easy, one-step procedure
No special storage requirements to maintain stability
Small sample volume required, just dip
Meets SAMHSA standards for substance abuse screening
Ideal for:
Home drug testing
Work place testing
School/college/university drug testing
Criminal justice
Law enforcement drug testing
Substance abuse rehabilitation centers