SUPER-DURABLE ACRYLIC WATER PIPES BUILT TO LAST IN THE USA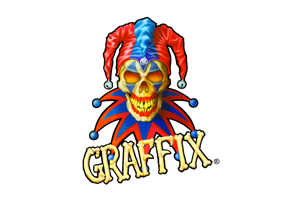 Graffix is a leading name in the industry, with smoke shops stocking their acrylic pipes since 1988. Customers have come to recognize the iconic 420 Jester that decorates each of their pipes, and trust the brand as high-quality and American-made.
If you're in the market for wholesale acrylic water pipes, Graffix is the way to go. We supply wholesale Graffix to shops across the country, and carry every style from the brand, including bubble skinny, straight skinny, and steamroller in every popular size and color.