Providing Quality Products Since 2009
We only carry top-selling brands!
NHM Distributing is your ultimate connection to our industry's best selling products. We have been purchasing the most sought-after items from top manufacturers for over a decade, allowing us to provide our customers with exclusive, high-quality products at competitive prices.
Our vast inventory has been proven to sell time and time again for our 1,000+ established customers. With our "It Will Sell" guarantee, you can feel confident to try out a new product with zero stress. If it doesn't sell, send it back and we will replace it with a product of your choice. That is how much we care about our customers and the success of their businesses'.
To make things even easier for our customer base, we have created a user-friendly website with simplified online ordering that is available 24 hours a day. Browse our products and place orders when it is convenient for you. For those who like to place orders over the phone, our customer service reps are ready to help with product suggestions and endless amounts of valuable information.
By utilizing our great relationships with retail stores across the nation, we are able to perform unparalleled market research. Our customer service representatives constantly monitor the progression of our entire inventory as it is sold nationwide, adapting our products and prices as needed within this ever-changing industry.
For us, it just makes sense to offer quality products at a great price and back it with our unparalleled customer service. In an age where customer service is often overlooked, NHM Distributing is bringing it back with style and poise.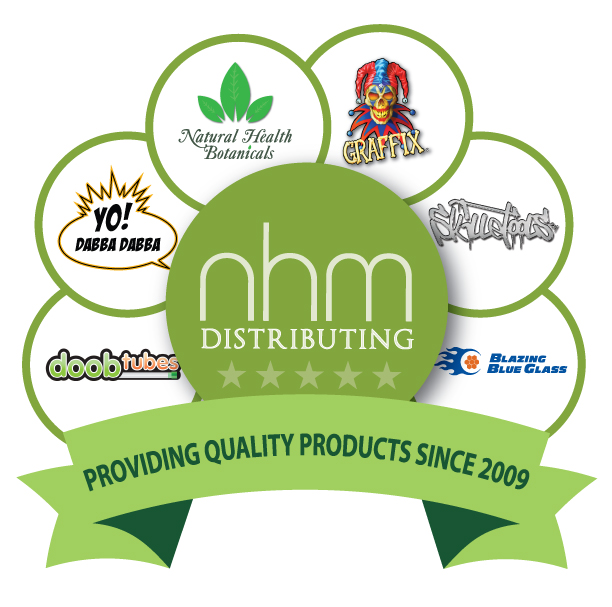 Meet the Crew
NHM Distributing is a family-owned business operated by a close-knit group of industry experts who truly love what they do. Read on to meet the team!
Brandon Monchamp
AKA Bossman B
Managing Member
Brandon is the man with the plan. With a natural knack for business and an entrepreneurial spirit that surfaced at a young age, he operated and advised many successful industry businesses before founding NHM Distributing.
Years of experience primed Brandon to introduce and sustain the nation's leading wholesale distributor by keeping shops relevant through providing only the latest and most popular smoking accessories. His leadership qualities, creativity, and passion for bringing ideas to fruition fuel NHM and its team members.
A father of (soon-to-be) two, Brandon makes wearing many hats look easy. He keeps the inspiration and big ideas flowing at the office as he balances managing accounts, the team, and a seemingly endless amount of projects--and somehow has enough energy to spend evenings running around with his 3-year-old daughter, Maggie.
Laura Snyder
AKA Mama Bear
Chief Happiness Officer
Laura infuses the office with light and laughter! And with nearly a decade at NHM Distributing, she's been an integral part of the company's evolution and sustainability. At her start, Laura was NHM's top account manager--and building those client relationships is one of her favorite aspects of the job. As a talker by nature, Laura loves to get the know owners and buyers as she assists smoke shops and head shops in their growth, right alongside NHM's.
Being a witness to the industry's shift has been an equally rewarding experience for Laura. As she notes, smoke shops weren't as prevalent or well respected when she was a kid. Now, it's the big thing, and she couldn't be more pleased that NHM stuck through the many changes and struggles that ultimately led to a thriving industry comprised of countless successful nationwide storefronts.
With years spent working in small business, Laura has tons of love for NHM. Here she feels supported by the team, inspired by the products and mission, and comfortable and connected. As comfortable as a pregnant woman can be…because baking baby Myles is no easy task…. BEST BELIEVE! Especially when her other full time job is keeping up with an always moving 3-year-old. Did we mention she chefs it up in the kitchen like nobody's business?!
Tina Hall
AKA Terp Tina
Wholesale Administrator
You can catch Tina at her standing desk processing orders as she sings along to her favorite songs. Tina's warm, kind and killer vibe permeates the office environment while her creativity and passion support NHM Distributing's mission to provide top quality products and customer service. Her favorite part about being on the team? "I can be myself at work."
Tina moved to Arizona from Baltimore in 2017--and she's been bringing the east coast flavor to NHM since 2018. Whether she's busting a move, singing a tune, or talking shit to Sam-- Tina's work ethic keeps the front end of our operation running smoothly.
She's an expert when it comes to keeping up with our ever-evolving industry and inventory, and her passion for the products we carry are conveyed in her ability to assist and educate customers on what's fresh... and a few favorites.
Sam Jurgens
AKA Jam Surgens
Operations Manager
If someone in our office is laughing, it's probably at (I mean...with…) Sam. He keeps operations running smooth and entertaining with endless weird videos, personalized handshakes for each team member, and random delusions like coining the term 'ADL'.
You can catch Sam 'Cruxing' and crushing warehouse operations on the daily. But, NHM's Operations Manager, who's a hip-hop DJ and producer by night, is more than just a man with quick-moving fingers. Sam handles customer service, manages our same-day speedy shipping, keeps the girls in check, and brings creativity and innovation to the brand with his clever ideas and thoughtful critiques. While his attention to detail, thoroughness and industry experience keep NHM's inventory cutting-edge and unique.
Congratulate Sam on the purchase of his first home! Although he doesn't own any pots or pans, we're sure his number 1 girl, Frannie, a Markiesje/Chihuahua mix, will appreciate the upgrade.
Brittney Poston
AKA Lit Britt
Account Manager
Brittney brings sweetness and sass! Her voice is likely the first you'll hear when reaching out to NHM Distributing for wholesale opportunities. With years of experience in the bizz, Britt knows what consumers like and what sells.
As our Brand Ambassador, Brittney utilizes her expertise to help shops and dispensaries across the nation stock their shelves and cases with the latest quality products on the market. Her favorite part of the job? Interacting with people, getting to know clients and their shops, and flirting with guys from Florida.
Brittney's been with NHM since 2015 and continues to be inspired and excited by her work because of our ever-evolving inventory that features the latest and greatest products around. Looking to increase your revenue? Bring in new customers? Stay relevant in an always-evolving industry? Britt's your girl
Adam Lebeau
AKA Stud muffin'
Account Manager
We have some pretty cool staff nicknames here at NHM….(what up Lit Britt and Terp Tina) BUT, one undoubtedly takes the cake. Enter Stud Muffin' Always Puffin. Sure, he's Adam Lebeau on resume paper, but with further investigation, we came to recognize his true self. And he'll never live it down.
Adam's the newest member of the NHM team and has effortlessly found his groove with coworkers and customers alike. His nine years of corporate customer service primed him to be one of the most empathetic account managers we've ever had, and the overall kindness of our clients and customers keeps Adam stoked on coming to work every day. Added bonus? He never feels out of line here, even though he says that's his usual place. Can't beat similar senses of humor in the workplace! (Just don't ask him about the girls' "knee-slappers").
When he's not slaying the phone system, you can catch Adam golfing, bass fishing, or spending quality time with his 6-year-old Yellow Lab, Nelson. Though Nelson hates when we steal dad for a few days out on the road at a trade show, Adam is enjoying getting acquainted with an industry he's always had an interest in.
Sean O'Horo
AKA Original OG(re)
Marketing Coordinator
Sean has a longstanding relationship with NHM Distributing, one that has stood the test of time...and distance. He first began working for NHM as the Warehouse Manager in 2010, but before Sam could fill his shoes… Sean needed to teach Sam how to drive, so he could, you know, get to work and stuff.
Sean's five year hiatus allowed the time to travel, an activity he's loved since childhood. In fact, Sean's so well traveled he's basically lived out the lyrics to The Beach Boys famed Kokomo song.. In all seriousness.
Now that he's back in action, Sean keeps NHM's website up to date and conceptualizes and deploys marketing campaigns. Though Sean misses the day-to-day stuff at the office, his new office mates (his 2 and 4-year-old) aren't so bad, either. Sure, sometimes Skype meetings are interrupted by screaming children or a Serbian dance party, but with the help from technology we keep the energy alive.
Amy Lynn Green
AKA Squeaker
Shipping and Receiving
Amylynn is known as the office mom for good reason! She's super sweet and thoughtful, always checking in with everyone on the team and taking care of business with a big smile. She keeps the warehouse bright and cheery as Michael Buble and Shania Twain play, much to Sam's distaste- but I mean, who wants to listen to underground hip hop all day?
Amylynn loves getting outdoors and being active. One of her favorite extracurriculars is hiking, and she frequents trails by her house in Phoenix after work or on the weekends. Her favorite place to hike? Definitely Sedona. And it's not her top location of choice just for the breathtaking views, but also for the memories she has there!
During an unusually taxing 10-mile hike in Sedona a few years ago, Amylynn and the love of her life, Tim, struggled to get to the top of Loy Canyon Trail before the sun went down. Tim was adamant about finding a private spot, so they hiked around until Amylynn couldn't take it anymore. But, it was well worth it, because once the couple got settled in the perfect spot, Tim popped the question!
Lindsey Rodrian
AKA Legume Lindsey
Public Relations
Lindsey is one of the newest members to join the NHM family, but it feels like she's already overstayed her welcome. Jokes aside, the head of our Public Relations department brings a multitude of talents to the table. With years of experience in marketing and managing, she makes sure NHM customers are in the loop, whether she's drafting up new emails to reflect our constantly growing inventory or managing design projects to educate and inform. And with an insatiable appetite for keeping busy, if this part-time vegans plate is empty, you know she is just getting started!
When Lindsey is on the clock, you can find her tucked away in her office listening to Skrillex, Diplo, or any other generic techno producer you can think of. But, her day isn't complete unless she proves Sam wrong on one of his many genius, groundbreaking ideas.
Outside of work, Lindsey loves to be outside in nature with her fiance and their little unborn alien child.
Sam Driscoll
AKA Better Sam
Social Media Guru
Better Sam rounds out the NHM crew effortlessly. The youngest member of our team keeps content fresh with creative production skills and a passion for social media. At only 17, Sam began refining his natural talents while working with a Huntington Beach shop that sold the skill toy Kendama. Soon after, Dr. Zodiak's picked up the child prodigy as an intern. Sam's first gig in the cannabis industry was a success and the brand hired him on full time.
At the end of 2019 Sam joined NHM and climbed the ranks quicker than he scales rocks in Sedona on his days off. He's created tons of helpful content like product demonstration videos and is spearheading our sister company's social media campaigns.
As the 2nd youngest in a family of 10, the master of meme culture has no problem keeping up with the rest of the crew, and has even been dubbed "Better Sam". His amusement in discovering what grabs people's attention is tailor-made for social media domination. Keep an eye on this soon-to-be GCU grad, cuz he's making moves.