Providing Quality Products Since 2009
We only carry top-selling brands!
NHM Distributing is your ultimate connection to our industry's best selling products. We have been purchasing the most sought-after items from top manufacturers for over a decade, allowing us to provide our customers with exclusive, high-quality products at competitive prices.
Our vast inventory has been proven to sell time and time again for our 1,000+ established customers. With our "It Will Sell" guarantee, you can feel confident to try out a new product with zero stress. If it doesn't sell, send it back and we will replace it with a product of your choice. That is how much we care about our customers and the success of their businesses'.
To make things even easier for our customer base, we have created a user-friendly website with simplified online ordering that is available 24 hours a day. Browse our products and place orders when it is convenient for you. For those who like to place orders over the phone, our customer service reps are ready to help with product suggestions and endless amounts of valuable information.
By utilizing our great relationships with retail stores across the nation, we are able to perform unparalleled market research. Our customer service representatives constantly monitor the progression of our entire inventory as it is sold nationwide, adapting our products and prices as needed within this ever-changing industry.
For us, it just makes sense to offer quality products at a great price and back it with our unparalleled customer service. In an age where customer service is often overlooked, NHM Distributing is bringing it back with style and poise.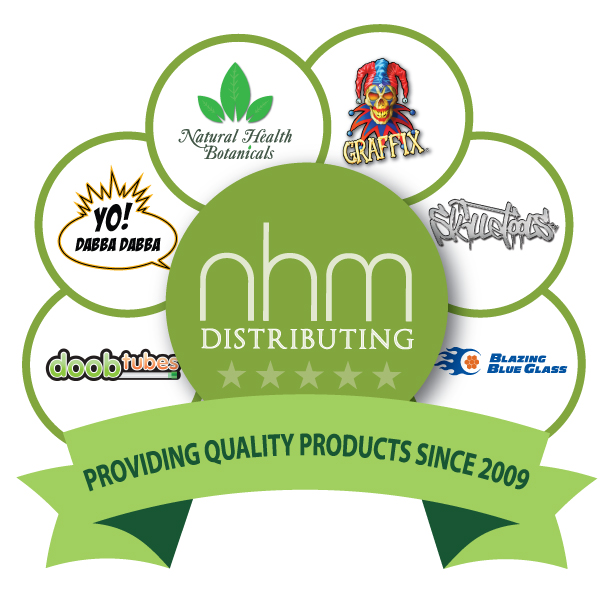 Meet the Crew
NHM Distributing is a family-owned business operated by a close-knit group of industry experts who truly love what they do. Read on to meet the team!
Tina Hall
Wholesale Administrator
You can catch Tina at her standing desk processing orders as she sings along to her favorite songs. Tina's warm, kind and killer vibe permeates the office environment while her creativity and passion support NHM Distributing's mission to provide top quality products and customer service. Her favorite part about being on the team? "I can be myself at work."
Tina moved to Arizona from Baltimore in 2017--and she's been bringing the east coast flavor to NHM since 2018. Whether she's busting a move, singing a tune, or talking shit to Sam-- Tina's work ethic keeps the front end of our operation running smoothly.
She's an expert when it comes to keeping up with our ever-evolving industry and inventory, and her passion for the products we carry are conveyed in her ability to assist and educate customers on what's fresh... and a few favorites.
Brandon Monchamp
Managing Member
Brandon is the man with the plan. With a natural knack for business and an entrepreneurial spirit that surfaced at a young age, he operated and advised many successful industry businesses before founding NHM Distributing.
Years of experience primed Brandon to introduce and sustain the nation's leading wholesale distributor by keeping shops relevant through providing only the latest and most popular smoking accessories. His leadership qualities, creativity, and passion for bringing ideas to fruition fuel NHM and its team members.
A father of (soon-to-be) two, Brandon enjoys spending time exploring and traveling with Laura who is pregnant with their first son, and their 2-year-old daughter Maggie. They'd bring Flynn, the chocolate lab, along, but he'd probably just hump everything.
Brittney Poston
Account Manager
Brittney brings sweetness and sass! Her voice is likely the first you'll hear when reaching out to NHM Distributing for wholesale opportunities. With years of experience in the bizz, Britt knows what consumers like and what sells. As our Brand Ambassador, Brittney utilizes her expertise to help shops and dispensaries across the nation stock their shelves and cases with the latest quality products on the market. Her favorite part of the job? Interacting with people, getting to know clients and their shops, and flirting with guys from Florida. Brittney's been with NHM since 2015 and continues to be inspired and excited by her work because of our ever-evolving inventory that features the latest and greatest products around. Looking to increase your revenue? Bring in new customers? Stay relevant in an always-evolving industry? Britt's your girl
Sam Jurgens
Operations Manager
If someone in our office is laughing, it's probably at (I mean...with…) Sam. He keeps operations running smooth and entertaining with endless weird videos, personalized handshakes for each team member, and random delusions like coining the term 'ADL'. You can catch Sam 'Cruxing' and crushing warehouse operations on the daily. But, NHM's Operations Manager, who's a hip-hop DJ and producer by night, is more than just a man with quick-moving fingers. Sam handles customer service, manages our same-day speedy shipping, keeps the girls in check, and brings creativity and innovation to the brand with his clever ideas and thoughtful critiques. While his attention to detail, thoroughness and industry experience keep NHM's inventory cutting-edge and unique. Congratulate Sam on the purchase of his first home! Although he doesn't own any pots or pans, we're sure his number 1 girl, Frannie, a Markiesje/Chihuahua mix, will appreciate the upgrade.